Best Weed Eater for Women in 2023: Which Should You Get?
To enjoy the pleasure of a perfectly trimmed lawn you have two possibilities: rely on a specialized company or take care of yourself using a weed wacker. And the latter seems like a better choice, isn't it? After all, the company may charge too much for this procedure, and sometimes you simply can't afford this service – and it's nothing to be ashamed of! So there's nothing wrong with wanting to take care of the weeds yourself, with the help of the weed eater.
But here's the thing – weed wacking is a tiring and demanding operation, and it can be very challenging, especially for a woman, since the average woman is physically a lot weaker than the average man. Therefore it is good to opt for the easiest weed eater for a woman to use so that this process will be much more comfortable and easy. And that begs the question – what is the best weed eater for women? That is what we've decided to find out.
After some research, we finally can say what is the perfect weed wacker for women, and now we wish to share our findings with you!
Our Top 3 lightweight and easiest weed eaters to use:
BLACK and DECKER BESTA510 – best string trimmer for women
Worx WG163 – top rated weed eater
Husqvarna 128LD – lightweight gas weed eater for a woman
Benefits of Buying a Weed Wacker for Women
Women are generally smaller and have less physical strength than men, therefore the best weed wacker for women are lightweight, with reduced dimensions, and with a small grip. That way, it will be easier to maneuver for shorter people, women, teenagers, and so on. All and all, the best lightweight weed eater for a woman is no heavier than a few kilograms.
Top 7 Best Weed Eaters for Women: Comparison Chart
| | | | | | |
| --- | --- | --- | --- | --- | --- |
| | Power Source | Cutting Diameter | RPM | Dimensions | Weight |
| BLACK+DECKER LST140C | Cordless electric | 13 inches | 6500 | 9 x 40 x 4 inches | 6.4 pounds |
| DEWALT DCST920P1 | Cordless electric | 13 inches | 6000 | 67.8 x 10.9 x 8.8 inches | 8.5 pounds |
| WORX WG170 GT | Cordless electric | 12 inches | 7600 | 55.25 x 5.47 x 7.48 inches | 5.5 pounds |
| Greenworks 21212 | Corded electric | 13 inches | 8000 | 39.57 x 9.84 x 4.33 inches | 7 pounds |
| CRAFTSMAN CMCST960E1 | Cordless electric | 15 inches | 6200 | 41.17 x 8.99 x 9.78 inches | 16.42 pounds |
| BLACK+DECKER LCC222 | Cordless electric | 10 inches | 9000 | 42 x 10.4 x 7.25 inches | 10.5 pounds |
| Ryobi RY40250 | Cordless electric | 13 to 15 inches | n/a | 35.7 x 8.3 x 6.8 inches | 13.37 pounds |
Buyer's Guide: Everything You Need to Know Before Buying a Weed Eater for Women
You need to choose the best weed eater, according to the surface that needs to be cut, what height of grass you need and how comfortable you are to use this device.
To find only the best weed eater for women, you have to pay attention to the: size, weight, cutting range, type of engine e.t.c. But let's take a look at these aspects in more detail, and sort out what to look for in the best weed eater for women:
The surface of the lawn you need to cut will determine:
Cutting width: From 30 cm to more than 107 cm.
Power: From 1 kW to more than 8.6 kW.
Engine: Electric or gas-powered.
The comfort will determine:
Energy: Electric weed wackers do not require engine maintenance and are quieter.
Forward movement: A self-propelled weed wacker (which moves forward on its own) is less tiring to use and is recommended for surfaces larger than 700 m².
Type: A robotic weed eater performs the work autonomously and a weed wacker is convenient for mowing very large gardens.
Mulching option: It avoids having to collect the mowing waste (the grass is minced and then expelled).
The height of the lawn is defined by the cutting height:
English garden: 25 mm cut
Classic lawn: Cutting from 50 mm to 70 mm
Natural lawn: 90 mm cut
The Power Source of the Weed Eater for Women
Corded Electric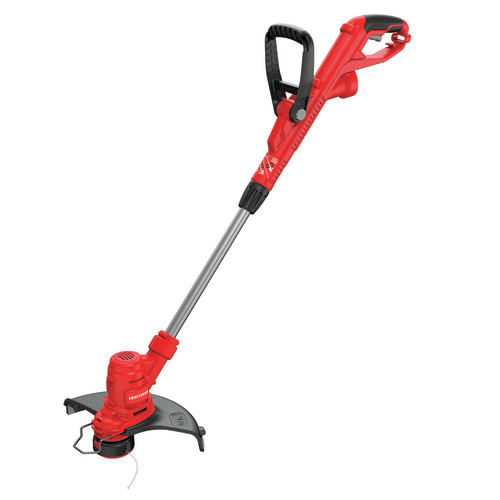 The power of these machines is generally between 1000 and 1600 watts, and they can operate blades with a cutting capacity even greater than 40 cm. These best weed wackers for women are affordable, quiet, and low-weight. On the other hand, this limits the length and power of their electric cable.
Cordless Electric
Another solution is the wireless electric weed wacker with a rechargeable lithium battery: you can just turn it on, cut the grass and then put it away anywhere. This women's weed wacker has no cables, requires no fuel or oil cans, and requires little maintenance.
Gas-powered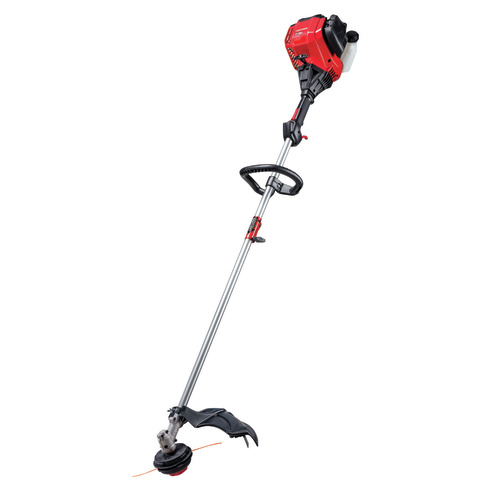 There are two models of gas-powered weed wackers: manual or self-propelled wheels. The former is much cheaper, but moving it around will be more difficult. Self-propelled models move on the ground, and the user will only have to move them in the right direction. Such models are perfect for areas with a large number of fruit trees and large lawns.
The Cutting Width of a Lightweight Weed Eater For A Woman
Weedwackers with a cutting width of less than 50cm are particularly suitable for lawns with dimensions between 200 and 1200 m². Meanwhile, weed eaters with a cutting width of more than 50 cm are recommended for surfaces between 800 m² and about 2000 m².
The size of the cutting width is directly proportional to the size of the machine: the larger the cutting diameter, the larger the mower will be, and vice versa.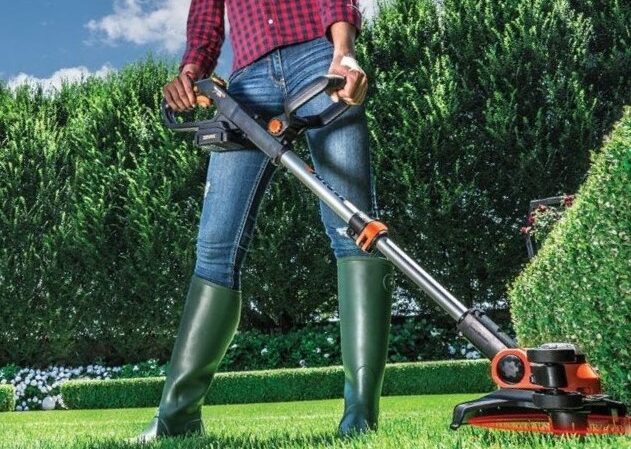 Head Type of the Best Weed Eater for Women
There are 3 head types of weedeaters for women:
And if you are grooming a large space, or you don't have much time to spare, an auto-feed will certainly be the safest choice to do the job fast and conveniently. Moreover, this type of weed wacker will advance the line automatically, so you won't have to stop and pull out more lines. If instead, you have decided to buy a weed wacker with a fixed head, you'll have to bump the trimmer head against the ground to cut the weeds efficiently.
Extra Features in the Best Weed Wackers of 2023
Some weed wackers for women handle edging so that you get clean lines along the edges of sidewalks and driveways. Some models feature a safe-guard so that you won't trim your actual plants by accident. Gas models also sometimes offer some extra features, such as a see-through gas tank. It will allow you to know when you need a refill.
FAQ about Weed Eaters For Women
Do I Have to Get Spare Battery When Buying a Weed Eater?
It's not a "must", but having a spare battery would be nice in case you are cutting the grass and the weed wacker's battery is completely gone. That way you won't have to stop grooming your garden, just change the battery and continue! So all up to you.
How Long Should Weed Eater Last on One Charge?
The average lifetime of a weed eater battery is approximately 45 minutes, however, some batteries offer 90 minutes of service time. The charging times change together with their autonomy. These are approximately 30 minutes for batteries that last 45 minutes, and 60 minutes for those that last 90 minutes. Furthermore, not all batteries will discharge if they are not used. The self-discharge depends on the type of accumulators and their storage temperature.
How to Keep Weed Eater Clean?
The weed eater must be cleaned after each use because the cutting and earth residues accumulate. Over time, these residues can cause operating problems. After turning off the weed wacker and putting on protective gloves, manually remove the tufts of grass from the wheels and cutting devices. Do the same with the cutting chamber.
Final Thoughts about Lightweight Weed Eaters
All and all, having the best weed eaters for women in 2023, is a must, since regular machines are rather heavy. They can be very uncomfortable and difficult to handle, not just for women, but also for shorter people. So hopefully our little guide will help you pick only the best weed eater for women so that this chore becomes a lot easier for you. So good luck tending your garden, and let us know if you have any more questions!