Best Weed And Feed For Southern Lawns In 2021
We all want our grounds looking all lush and green – especially those who have big spaces. The process of weeding can be very time- as well as energy-consuming. This is one of the major reasons you need to try out the best weed and feed for southern lawns. We know what you're probably thinking – How do I go about it? How do I know the right one for my grassplot? How do I apply it and get the best results?
Well, don't worry! In this article, we would be giving you an in-depth understanding of what weed and feed for southern lawns and the brands to look out for. We also discussed the best ways to apply these products and their expected results at the end of this article. So, you might want to stick around till the end.
Top 7 Best Weed And Feed Products For Southern Lawns: Comparison Chart
| | | | | | | |
| --- | --- | --- | --- | --- | --- | --- |
| | Type | Primary Nutrients (N-P-K) | Grass to Use On | Weeds Affected | Restricted In | Area Covered |
| Scotts 3313B | Granules | 29-0-10 | St. Augustine (including Floratam), centipede, zoysia, carpetgrass | Dollarweed, clover and other | Availability: TX, FL (except Panhandle region), LA, MS, NC, AL, GA and SC | 5000 sq. ft. |
| Scotts 26008A | Granules | 29-0-10 | St. Augustine (including Floratam), centipede, zoysia, carpetgrass | Dollarweed, clover, oxalis, plantain, chickweed, henbit and other | n/a | 8000 sq. ft. |
| BioAdvanced 704840B | Granules | n/a | Bermuda grass, St Augustine grass, centipede grass and zoysia grass | Dandelion, dollar weed, clover and other | n/a | 5000 sq. ft. |
| BioAdvanced 100532518 | Granules | n/a | Bermudagrass, Fescue, Zoysiagrass, Kentucky Bluegrass, Ryegrass, Buffalograss and Seashore Paspalum | Broadleaf lawn weeds including dandelion, clover, chickweed, crabgrass and other | HI, NY, FL | 5000 sq. ft. |
| Pennington 100536600 | Granules | 30-0-4 | Northern and southern grasses | Over 250 broadleaf weeds | n/a | 5000 sq. ft. |
| GreenView 2129267 | Granules | n/a | Kentucky Bluegrass, Ryegrass, FEscue, Bahia, Bermuda, Buffalo, Centipede, Zoysia, St. Augustine | Over 200 tough weeds | AK, CA, HI | 5000 sq. ft. |
| Bonide Chemical 301 O8586828 | Liquid | 20-0-0 | Bentgrass, Bermudagrass, Kentucky Bluegrass, Fescues, Perennial Ryegrass, St. Augustine | Black medic, clover, common chickweed, dandelion, dock, english daisy and other | n/a | 2500 sq. ft. |
Does Your Lawn Need Weed and Feed?
Do you have an over-weeded grassplot? So much that the weeds are covering up most areas of the lawn? Or is it with a below-average-healthy growth? Weed and feed for southern lawns are created for just this purpose.
They help the grass grow greener, stronger and faster. If used in the right way, southern lawn weed and feed can prove to be one of the best products to boost your sward growth. The products are meant to fertilize and weed every part of the lawn that it's applied to. But if some parts of it do not require much attention, then you can take a more selective approach when applying.
If you have a big grassplot that requires fertilizing and weed killing, selecting the best weed and feed for southern lawns is the next step for you to take.
Weed and Feed Vs. Fertilizer: What's the Difference?
You see, weed and feed products are made from a combo of the best fertilizers for southern lawns and weed killers. They can be found in granular or liquid form. On the other hand, fertilizers are used to feed your grass, and that's all. They are not used in the weed-killing business and cannot be used to protect your sward from weeds.
Choosing the Best Weed and Feed for Southern Lawns
Wait, before you make a purchase, you need to hear this. The truth is there is a lot of information and misinformation out there about fertilizer and weed-control products but here is no need to fret.
We have spent some time learning about the best practices of lawn care and weeding. Finally, we came to a reliable conclusion for intending buyers of the southern grass weed and feed.
Type of Weeds Affected
There are different types of weed, and each product responds to them at different levels of efficiency. Whether it's for the lawn or grass for South Carolina. Maybe it's the best weed and feed for South Florida. No matter, different products have their peculiarities.
One major thing that you must know is that grassplots do not all have the same kind of weed problem. For instance, some have dandelions, while others have patches of clover scattered all about. So, before making your purchase, you must confirm what types of weed the product can affect.
You will also find southern weed and feed that can handle crabgrass, plantain, chickweed, ragweed, and many others.
Primary Nutrients
We've been dwelling on the product's weed side; let's talk a little about the feed side. Nutrients are to plants what food is to humans. It's as simple as that. A lush green lawn has been fed with the essential and primary nutrients required to grow. For this, you need fertilizers.
Fertilizers have a good percentage of NPK with 'N' being nitrogen, 'P' being phosphorus, and 'K' being potassium. These three have a major role in the growth of your plant. Nitrogen gives the bright green glow while phosphorus strengthens the root system. Potassium helps in protecting the plant from cold, diseases, and other external factors.
When you purchase a feed and weed product, you can check the pack find out the percentage of each nutrient present in the mixture. For instance, a southern states lawn fertilizer with "N – 13%" contains up to 13% nitrogen content.
Secondary Nutrients
The use of phosphorus in manufacturing fertilizers for use or sale has been banned in more than 10 states in the USA. But you can still get the best results without it. Fertilizers can also be made with other micronutrients that can stand in for the missing phosphorus.
These secondary nutrients include calcium, sulfur, cobalt, chloride, zinc, copper, manganese, iron, boron, calcium, molybdenum, nickel, and magnesium.
Applying Method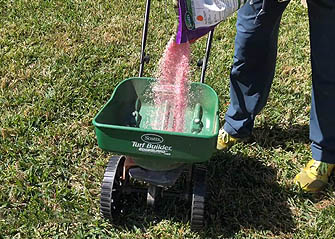 There are two major forms for applying: the granular and liquid forms.
The liquid form is easier to apply as they can be hooked to a hose and sprayed evenly across your sward. But you need a tool known as a spreader before you can apply the granules product. Without this tool, you might run at a risk of destroying your grass due to the over-concentration of the application.
Applying Weed and Feed: General Guidelines
There are specific instructions that come with the pack of weed and feed for southern lawns. While you must follow them religiously, there are some general guidelines that you must consider.
Ensure that kids and pets stay away from the grassplot or treated area for a couple of days until the product is fully washed away.
Wait for a first heavy rain or water the lawn several times before you get your family on it.
If you're using the granules, ensure that you use a spreader, and follow the packaging instruction.
Prepare your sward by mowing and wetting it a few days before applying the product.
Try to apply when it is most likely not to rain immediately to avoid the entire product getting washed away.
FAQ
When is the Best Time to Apply Weed and Feed for Southern Lawns?
While there is no fixed period when your grassplot should look good, there are times when you can't apply weed and feed for southern lawns. Technically, spring end is the best time to apply the southern weed and feed. You don't want to use it too early, especially when the weeds are not yet out.
What to Expect After Applying Weed and Feed for Southern Lawns?
In this weed and feed for southern lawns review, we've highlighted all the great benefits that you can get from using it. While some products might vary in action, you can be assured of excellent weed control and lawn grooming.
How Many Seasonal Applications Does My Lawn Need?
The first thing to do is to understand your grass and its demands. But generally, your first feeding should be done in the early Spring. Take a two-month break before revisiting your grass.
Final Word
It is a great feeling to have a well-groomed, green lawn at your backyard. While there several products in the market, we have tested some of them and provided you with the best weed and feed for southern lawns 2021. Have fun with them!